HOW MARGOT ROBBIE GOT THAT PERFECT FLAWLESS SKIN
Margot Robbie along with all the other barbies on the film would go for regular facial treatments, but it was Margot Robbie who had the most treatments, sometimes two a week! Her facialist, Jasmina Vico created a plan for her and the other barbies to work on the glow from within. Vico looked after not just her skin, but also her energy with such a high stress job as "THE BARBIE".
The treatments were a mix of holistic and high tech treatments working on de-puffing skin with lots of lymphatic drainage and ice balls to bring down inflammation. A combination of skin peels, massage and pressure point massage to open up the face with the occasional skin needling treatment to rejuvenate and brighten complexion. To work on internally, the barbies took a combination of supplements with a stress management and diet protocol to really maximise healthy skin from within.
Home care was a big part of their treatment plan by including lots of ingredients in their skincare like growth factors, vitamin C and antioxidants.
What really excited me and my team though, is the use of the sensory device- Sensate which uses vibrations and sound to lower stress in just 10 minutes!!
Feel free to read more on the skin prep for the barbies here.
Now here's our version of the Barbie facial...
After reading this article myself, it gave me this great idea to create our own CL Skin Barbie facial and what good timing with Christmas around the corner to achieve the ultimate flawless glowing perfection just like the barbies!
I must say, it's a treatment myself and my team are so excited about and we've practiced it on ourselves and the results are incredible not to mention all the senses that are stimulated!
So here is our version of the "Barbie" Facial and how you can achieve gorgeous glowing skin in time for Christmas
SKIN PEELS
It wouldn't be a BARBIE Facial right, if the skin peel wasn't pink right!? 
 The first step to glowing skin is removing that build up of dead skin on the surface. This helps further product to penetrate into deeper layers. 
So, for this treatment we are using the Pomegranate peel to help dissolve those dead skin cells and this enzymatic peel will help rehydrate whilst protecting your skin barrier. 
SKIN ICING AND CHILL GLOBES
We will use a combination of ice and our skin chill globes to help reduce puffiness all over the face, including underneath the eyes. 
If you are acne prone, the cooling effect of the ice will help reduce the inflammation minimising the appearance and help heal those breakouts faster! 
And just like the Barbies, we are aiming to create that inner glow so by using ice on the skin, this helps to stimulate your blood circulation helping to improve the skins natural glow and even tone. 
LYMPHATIC & PRESSURE POINT FACIAL MASSAGE
The use of lymphatic and pressure point facial massage is to detoxify, reduce swelling and puffiness and increase the skins natural inner glow. 
We will be using special facial massage movements to detoxify, reduce swelling and sculpt the face because who doesn't want that right!? 
Plus lets not forget about the benefits of ultimate relaxation!! Stress plays a HUGE ROLE on our skin so by helping to reduce your stress levels, that in itself is going to have a big impact on your skin
SENSATE DEVICE AND MASK
This is something we are sooo excited about here at CL Skin! We couldn't help ourselves but also bring in the exact device that Margot Robbie used during her skin treatments- the Sensate Device.
The sensate device will be placed on your chest during your facial which is proven to relieve stress and anxiety within just 10 minutes of this device!
Whilst you enjoy the benefits of the Sensate Device, your skin will be deeply nourished with our pink alginate mask for a gorgeous glowing finish to your treatment!
NUTRITION 2 WEEK MEAL PLAN VALUED AT $99- Receive it for FREE! 
We have collaborated with Nutrionist and Skin Expert, Chiza Westcarr to create our very own inner glow 2 week meal plan customised to your skin. 
Find out exactly what meals to prepare for breakfast, lunch and dinner to treat your gut and improve the overall complexion of your skin. 
IN SUMMARY THE BARBIE FACIAL INCLUDES: 
Double Cleanse and Exfoliation
Enzymatic Peel
Skin Icing
Skin Chill Globes
Lymphatic and pressure point facial massage
Anti stress and anxiety sensate device
Hydration and brightening Pink Alginate Mask
Application of Glowing products
2 Week meal plan
Valued at $318
Get it for $219 SAVE $99
BARBIE SKIN TREATMENT PLAN
Get gorgeous flawless Barbie Skin like Margot Robbie by Christmas
Week 1: Advanced Skin analysis+ Before image taken + Barbie Facial 
Week 2: Dermapen Skin Needling with hydration and collagen boosting infusion
Week 3: Barbie Facial + Detoxifying brightening peel
Week 4: Barbie Facial + Brightening Peel
Week 5: Barbie Facial – Customised to what your skin needs for extra glow for Xmas week! 
Before and After images
Customised Acne or Ageing 2 week Meal Plan 
$191.72 per week over 6 weeks. 
Save $298
Give the gift of Good Skin this Christmas! 
Christmas Packs
Contains: 
Gentle Antioxidant Cleanser
3 in 1 peel mask
Moisturiser of choice
Mineral Pro SPF 30
From: $216 SAVE $54
Facial Chill Globes + B3 Sheet Mask
Sculpt and achieve natural glow with this pack! 
The B3 mask is packed full of Niacinamide, Hyaloronic Acid and Vitamin E to instantly hydrate the skin and give the skin a glow. Plus added benefits of killing acne bacteria, preventing scarring and brightening pigmentation and dull skins. 
Use chill globes over the top to help absorpsion of mask and to reduce any inflammation plus sculpt the face and stimulate blood circulation for a brightened complexion. 
$79 SAVE $29.95
Advent Calender
Are you or someone you know an absolute Skin lover? 
Then this is the ideal gift! 
Includes 12 full sized products set to get you through the party season and well into the new year! 
Valued at $547. Get it for $349. 
Save almost $200!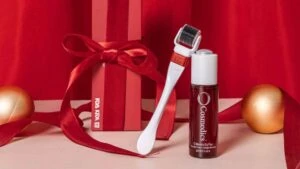 Dermal Roller + B3
Want boosted results at home? 
EVERYONE needs this!! 
Apply the B3 to strengthen skins immunity, kill acne bacteria, boost collagen and prevent post acne marks and pigmentation.
Then straight after application of B3, use the dermal roller to help push the B3 serum deeper into skin. 
The Dermal Roller uses teeny tiny needles to pierce the skin helping product to go further. Plus amazing for a congested bumpy skin as it helps push oxygen into skin which then is proven to kill bacteria. 
Great for anyone wanting age prevention and a healthy functioning skin as it helps stimulate cell turnover, collagen and elastin production!
$169 SAVE 42.50
Pre Party Pack
A CL Skin Favourite!! 
Contains: 
Exfoliating Cleanser
Hydra Plus Sleep in Mask
O Cosmedics Headband
Get skin glowing and ready before a special event with this super charged pack. 
Pop your headband on, give skin a deep exfoliation with circular movements then finish with the hydra sleep in mask.
 Hello gorgeous hydrated smoooooth skin! 
$108 SAVE $44
CL Skin is giving back this Christmas!
Taking donations only until 9th of December to ensure the presents get delivered in time for Christmas.
XMAS OPENING HOURS
Mon 18th 9-5:30
Tues 19th 9-8:30
Wed 20th 9-5:30
Thurs 21st 9-8:30
Fri 22nd 9-5:30
Sat 23rd 8-4:30
CONDITIONS APPLY: All offers shown are exclusive promotions and are not valid with any other offer, pre paid package, discount or voucher. Offers cannot be cross-redeemed. Not redeemable for cash or product. Non-transferrable. No substitutions. No rain-checks. No refunds. Limited edition treatments are redeemable for a limited time. Prices are subject to change without notice. Offers are valid until Christmas Eve 2023.