Acne
Acne comes in many forms from blackheads to white heads to blind pimples and cystic acne. With a variety of acne, they all tend to affect not only your skin but also your confidence and emotionally internally.
Coming to Chantal Louise Skin Therapy, you can be sure you're in safe hands, especially having acne herself, Chantal has done extensive research and training to clear her own skin.
With Chantal's experience as well as her highly trained staff we have been able to completely clear people's acne and better yet, improve their confidence and change their life!
Chantal and her team can relate to how acne affects you not only on the outside but emotionally.
Skin results take work and commitment from both the therapist and the client. Each skin is different and results can depend on what's going on internally, but we are here to help guide you through the way.
Gabby has always suffered with acne right from when she was a kid. As an adult it got worse and she was so self conscious about it.
Her skin was sore and red and she would never leave the house without makeup on.
With a combination of LED light therapy and There you glow treatments, we've been able to completely clear the acne.

Gabby has built her confidence back and happiness just beams out of her!
When Laura came to first see us, her skin really affected how she felt on the inside.
She was frustrated and not to mention her skin was really sore.
We completed a course of anti bacterial LED sessions and within two months these are the results.
It's now been over 7 months since we've treated Laura's skin and she's been able to maintain her own results at home. She's regained her confidence back and is killing it at life!
When Rachel first visited, she was really worried about spending money on products and treatments that wouldn't work for her. Her skin was really sore, red and inflamed. It didn't take long until we saw visible results. 
With a combination of treatments and a personalised treatment plan, we have been able to completely clear Rachels skin as well as improve her overall confidence to the point she's no longer worried about her skin.
SCARRING
Scarring happens when a wound has tried to heal and replace the collagen lossed. It hasn't been able to completely rebuild your natural collagen and your left with an indent in the skin or even post acne mark that appears to be a red or brown hyperpigmentation. 
Our #1 advice would be to avoid picking your breakouts. When you do this, you risk the chance of spreading the bacteria causing more breakouts and can push all that inflammation further down causing scarring. 
We have a lot of clients who want to treat their scarring and the most successful treatment for this would be the dermapen treatment. For best results a course of treatments is recommended every 6 weeks.
Carmelina has had deep scars on her cheeks from previous acne. After a course of dermapen her scars have significantly improved and are not as noticeable. Her skin is now much smoother and clearer
Sheena has been suffering with pimples and scarring for 10 years. The scars on her forehead especially were a big concern for her. 
She wished for an even skin tone, clearer skin and after a combination of dermapen and There you glow treatments we've been able to completely clear her forehead scars and ultimately boost her confidence. 
When Ashlee came to visit, she was mainly concerned with her breakouts and was quite concerned with the scarring left over from the breakouts. With a combination of dermapen, LED and There you glow treatments, her skin has had a huge improvement!
PIGMENTATION
Pigment is something that creates the natural colour of your skin. Sometimes, your pigmentation skin cell can be overworked due to previous sun exposure or hormone related situations. Pigmentation will appear as light or dark skin patches.
If you are wanting to start treating the discolouration our first advice is to apply a good quality SPF DAILY. This will prevent any other pigmentation from coming to the surface and will make treating your skin much easier.
We use the number 1 depigmentation solution in the world, Cosmelan, to treat and improve pigmentation.
Samantha's biggest concern was the pigmentation under her eyes. She wanted her skin to be less blotchy and the pigmentation to be faded. With a combination of dermapen and our Smooth As a babies bottom treatment, the pigmentation has dramatically faded! 
AGEING
Collagen and Elastin are essential in treating ageing skin. Collagen helps to keep our skin plump and juicy. Elastin helps to keep our skin firm and tight. The scary thing is, that we naturally stop producing collagen and elastin in our 20's! 
So what we need to do is, to try and stimulate your own natural collagen and elastin. We have lots of options and find a combination of treatments work really well as well as using good quality ingredients to enhance and rebuild your skin. 
The ageing process can be affected by life choices and an over exposure to the sun so it's important to wear SPF daily as well lead a healthy lifestyle. 
The results speak for themselves! 
When Jo came to first see us she was wanting to treat signs of ageing and was mostly concerned about the loss of firmness. With a combination of Dermapen and Hello New Skin Cells, Jo's skin has improved so much that she now gets regular comments on her skin! She feels so much more confident and often comments on how she's so glad she came across our clinic.
Roma has always loved facials, and was looking for someone to guide her with her skin. When she first came to visit she was concerned with blackheads which was something we were able to fix quite quickly with the right products. Her biggest concern was the concerns of ageing. For Roma, we've been able to create a healthier, firmer skin with reduced lines and wrinkles
ECZEMA
Eczema/Psoriasis/Dermatitis
Eczema which is also known as Dermatitis will appear as flaky, inflamed, swollen, crusty patches of skin. Unfortunately the cause is unknown but is found to be linked to your immunity. The skin essentially is trying to fight off an irritation but works in overdrive hence the overproduction of skin cells.
Psoriasis is a genetic, autoimmune disease that comes and goes with time. Many think alcohol and stress can trigger their psoriasis. The skin appears with scaly patches of skin and may have a bit of heat with it. The skin cells over produce and is unable to perform its natural shedding functions.
A course of LED helps dramatically with Eczema/Dermatitis/Psoriasis to heal the skin and can be maintained with LED treatments to avoid flare ups.
Fiona Eczema comes and goes. When she first came, her underarm was quite flared up with the eczema. It was red, sore and irritated. With a few Dermalux LED treatments we were able to completely clear her eczema flare up!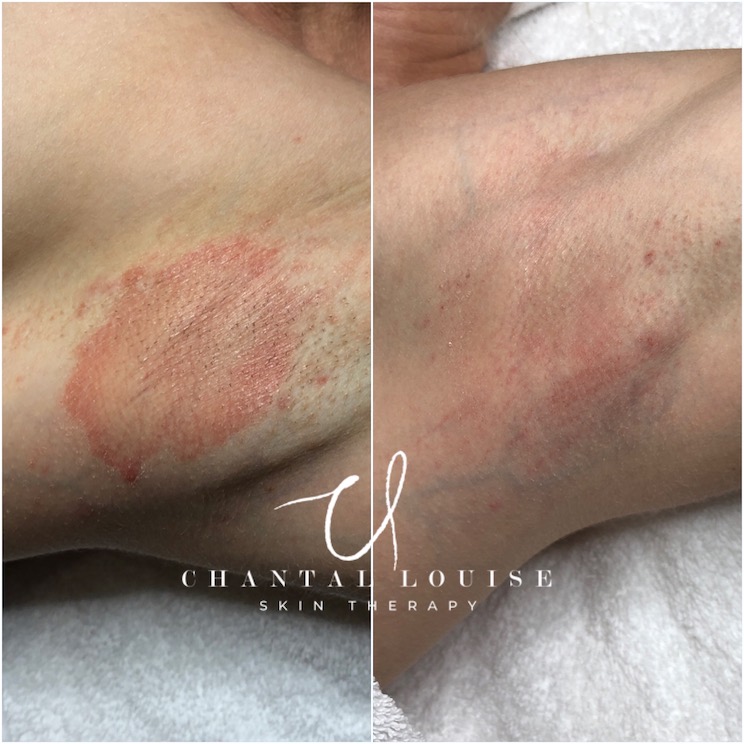 Chantal woke up one morning with a flare up of eczema on both eyes, severely swollen, itchy and red. This would come and go with her. We instantly put her under the LED light to reduce the swelling and calm the skin. With a course of LED and treating her internally with the right supplements and skin care, she has now never had another flare up like this again
ROSACEA
Rosacea is an auto inflammatory skin condition where the skin is unable to defend itself correctly from irritations. This will appear as red flushing, broken capillaries and if severe can form with pimples as well. 
The first place to start is to eliminate the cause and triggers of your rosacea. 
The exact cause of rosacea is unknown however We have gentle and effective treatments to reduce the redness, improve your skin health so you can feel much more confident in yourself. 
On Maria's first visit, her skin was really irritated. It was itchy, red and especially around her nose. Given her busy lifestyle and owning her own business, she had a lot going on and needed some timeout, not only for herself but also for her skin. 
We started with the Cool, Calm and Collected Treatments then incorporated the Dermalux LED treatments. 
Her rosacea has completely calmed down and she has built so much more confidence. 
Her skin is much stronger, healthier and even! Now it's a beautiful treat for her every month and a chance to have some time to herself and at the same time maintain her beautiful skin results!
DEHYDRATION
Dry skin is where your skin is lacking oil. It can look flaky, rough and appear dull and is genetic. It's something you are born with. We can improve and help to manage this. 
Dehydration is where your skin is lacking water and moisture. Skin will often feel tight, itchy and a bit irritated. You may even feel like you have more fine lines. Dehydration is something that is caused from lifestyle changes and is often an easy one to fix. 
When Ashleigh came to first see us, she was feeling like her skin was missing some life to it. She felt dull, dehydrated and lifeless. With a combination of treatments and a personalised treatment plan we've been able to transform her skin, brighten her complexion, saturate it with hydration and at the same time work on preventing ageing!