There You Glow Skin Therapy
Facial Treatment
Need a bit of a pick me up for your skin? This treatment could be just what you need. Chantal Louise Skin Therapy offers a range of skin treatments, including the There You Glow facial. This facial is perfect for all skins!
Our There You Glow treatment is designed to give you bright, clear, and glowing skin. We want you to walk away with confidence knowing you have skin that looks and feels incredible! This treatment is like a facial, but on steroids. The aim is to give our clients softer, brighter, and of course, healthy skin that's positively glowing.
Combining our Hello New Skin Cells treatment with the famous Dermalux LED, There You Glow is an LED facial designed to give you healthier, softer, glowing skin. During this 75-minute session, you'll be treated to a non-invasive skin peel that dissolves dead skin cells while also penetrating into the pores to hydrate and plump your skin.
Each session is customised to you, with us having access to 6 different skin peels ranging from mild to strong. Of course we put skin health as a priority and may put you on a plan to make your way up to the strong peels if you and your skin are ready for it!
The treatment also includes a facial treatment mask, blackhead extraction, neck and décolletage massage, along with your choice of either a hand and arm, scalp or foot massage.
With the There You Glow skin treatment, we'll also incorporate the use of the Dermalux LED light. This non-invasive light is used to penetrate different layers of the skin, triggering the natural cell processes within your body. 
The Dermalux LED light is extremely special in the way that you can customise and use 2 or 3 lights in one treatment to treat multiple skin conditions for the same price. It is also proven to stimulate your good hormones helping to calm and relax the mind, allowing you to unwind while you undergo treatment.

This LED facial combined with a skin peel will have your skin looking and feeling incredible!
With the There You Glow skin treatment, we'll also incorporate the use of the Dermalux LED light. This non-invasive light is used to penetrate different layers of the skin, triggering the natural cell processes within your body. The Dermalux LED is also able to be customised to suit your skin needs with the use of 3 medically proven lights to change the way skin functions. 
Using the 415nm, this powerful blue light destroys acne bacteria along with helping in the prevention of breakouts. It also helps to balance oil production, improve skin clarity and creates an antibacterial action without irritation.
The 633nm red light is clinically proven to kick start skin cells helping to reproduce collagen, elastin and improve skin's hydration. It also improves blood flow to help remove toxins and encourage an even, healthy and bright appearance. 
The ultimate repair light! This 830nm Near infrared light is designed to reduce irritation, swelling and redness. It is also proven to be effective for pigmentation and age spots.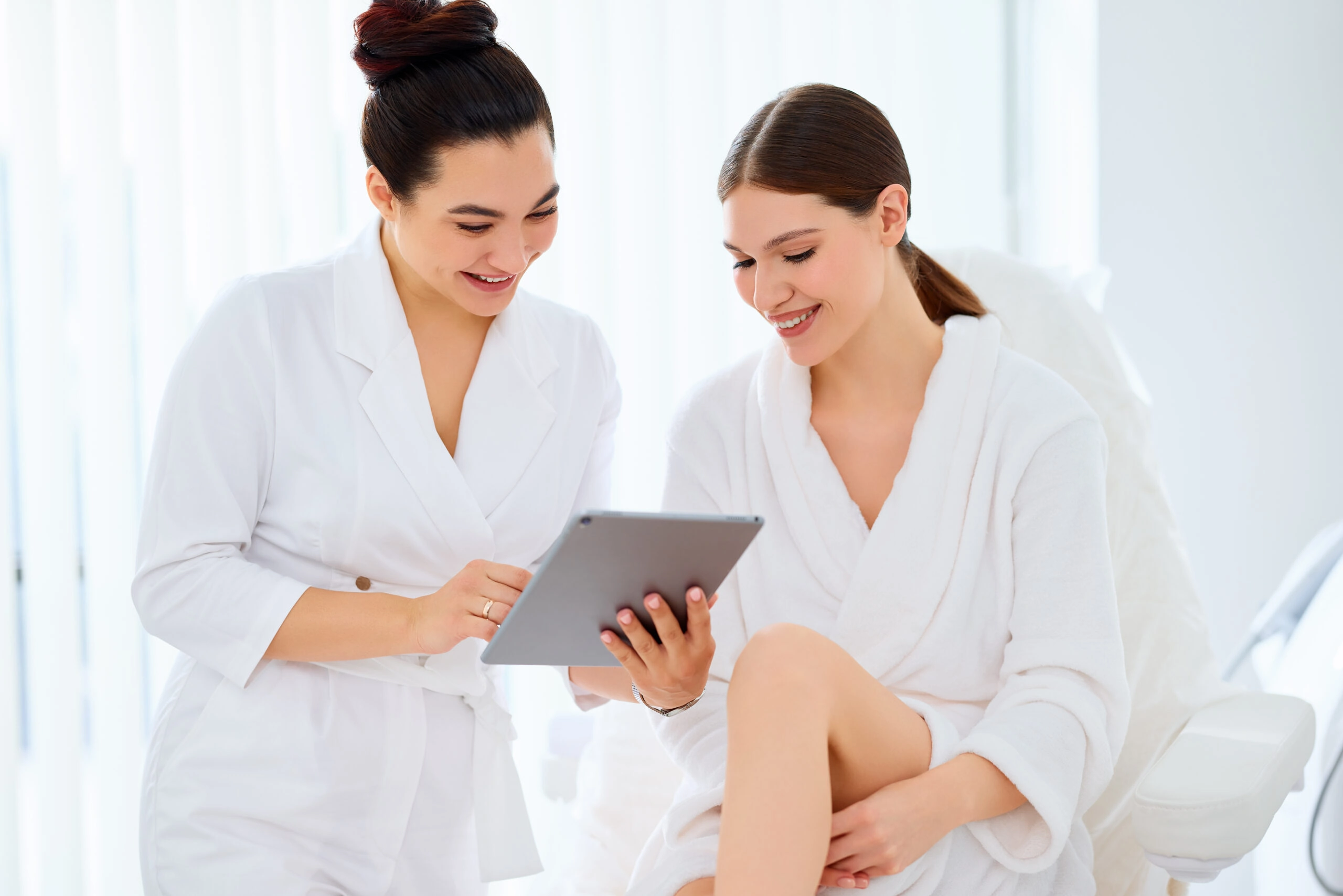 Why choose our There You Glow skin treatment?
There are several reasons why you may wish to book our There You Glow facial treatment. This powerful combination of skin peel and LED facial can:
Conditions this treatment helps
If you'd like to know more about which treatment would be best for your skin, book a consultation with us today. Available as either an online or in-person session, a skin consultation will allow us to create a personalised treatment plan that's tailored to your desired outcomes and needs.
Facial treatments offered here in Brisbane
At Chantal Louise Skin Therapy, we can provide a wide range of Brisbane facial treatments. From those that hydrate the skin to extraction services, we have everything you need to improve your complexion.  Some options available include:
Visit our treatments page for the full list of services available at Chantal Louise Skin Therapy.
Before booking a There You Glow facial treatment or any of the other treatments Chantal Louise Skin Therapy offers, we recommend scheduling a skin consultation with our experts. This can be completed either online or in person, at a time that works for you. These sessions allow us to work out skin types, hone in on concerns, and make recommendations.
About Chantal Louise Skin Therapy
Forming in 2018, Chantal Louise Skin Therapy was brought to life to help others feel confident in their own skin. Based out of Nundah, our skin clinic is designed to be a place of fun and positivity. Staff regularly undergo training to stay up-to-date with the latest industry advancements, allowing us to offer our clients the best possible treatments and results.
We pride ourselves on creating personalised treatment plans for each client. Our team loves to help individuals learn more about their skin, including how to maintain results at home through skincare and lifestyle changes.
Whether you're looking to improve the appearance of fine lines and wrinkles, reduce pigmentation or sun damage, treat acne, or just want to improve your overall skin health – we can help!
As a business, we've been given the Diamond INSKIN POP award, making us one of the largest stockists in QLD for O Cosmedics. We were a top 10 finalist in Australia's first ever Beauty Squad. Our clinic is also a member of the Aesthetic & Beauty Industry Council. In addition to skin treatments, we offer eyelash and eyebrow tinting.