What is a
Detoxifying Deep Cleanse

facial treatment?
A Deep Cleansing Facial (DCF) combines the best and latest skin care procedures into an all-in-one treatment. This multi-step skin treatment is one of the most popular Brisbane facial treatments, combining a gentle skin cleanse, non-invasive exfoliation, purifying skin treatment and a massage in a relaxing experience.
Deep cleansing facials can be used to treat a range of skin concerns, from rough and uneven skin texture to sun damage and signs of ageing. If you want to brighten your complexion, remove impurities from your skin or target signs of ageing — discover the power of DCF today.
A Deep Cleansing Facial Can Address Many Skin Concerns
DCF is a multifunctional treatment that has benefits in being used alone, or to supplement the treatment of any skin condition in conjunction with a regular and tailored skin care regime. Our clients find deep cleansing facials highly effective in treating:
Skin pores contain a sebaceous gland that secretes an oil called sebum. Increased sebum production is the culprit behind their larger appearance. When excess oil, dead skin or dirt begin to clog a pore, it can appear more prominent.
The cleansing treatment and extraction stages of a deep cleansing facial can remove waste from the pores, reducing their visibility on your skin.
As we go about our daily lives, our skin makes contact with various substances that can manifest as an unwanted buildup in the skin. This can lead to both clogged hair follicles – whiteheads if they are closed under the skin's surface and blackheads if they are open. Both are common symptoms of acne, and it can be frustrating to see them consistently. Our detoxifying deep cleanse facial treatment can help get rid of the dirt, toxins, bacteria and dead skin cells that clog these follicles.
Wrinkles, dry spots and dark spots from sun damage are some of the most noticeable visible signs of stress and ageing. Ironically, these can often add further stress to our lives – continuing the cycle!
This deep cleansing facial treatment makes sure to pamper you, incorporating a steam cleansing treatment, purifying mask and massage to calm you and provide some well-deserved stress relief.
Tailored Deep Cleansing Facials
Everyone is different, and the same applies to skin.
It is important for your aesthetician to understand your unique skin before any treatments are performed. We perform an extended hour-long skin consultation to truly understand your skin and what we can do to best treat your concerns. Your deep cleansing facial is tailored to your skin type, preferences and any pre-existing skin conditions.
Our deep cleansing facial includes
At Chantal Louise Skin Therapy, we perform a multi-step skin treatment to deep cleanse your skin. We will pamper you and deliver visible results that'll leave you with a healthy glow the moment you step out of our Brisbane skin clinic.
Whether you're an experienced skincare fanatic or a beginner to facials and professional exfoliation treatments, we will take care of you – so you can feel comfortable in our hands. See how we do it below.
Our deep cleansing facial treatments will help you achieve your healthiest skin. This can help:
Benefits of an ultrasonic device
The ultrasonic device uses ultrasonic waves which when used on the skin, help to infuse products and extract blackheads. 
For extractions, we first use the device to push a special solution into the skin to soften any clogged pores and oil. After the pores and oil have been softened, we then switch the setting to extract the blackheads.
The device gently shakes and vibrates the skin with ultrasonic waves causing blackheads to easily and gently pop out.
To finish the treatment, we can infuse any product suited to your skin to maximise results. For example, if you have blemish prone skin, we can infuse a solution to help kill any bacteria. If your skin is in need of hydration, we can infuse a solution to rehydrate your skin.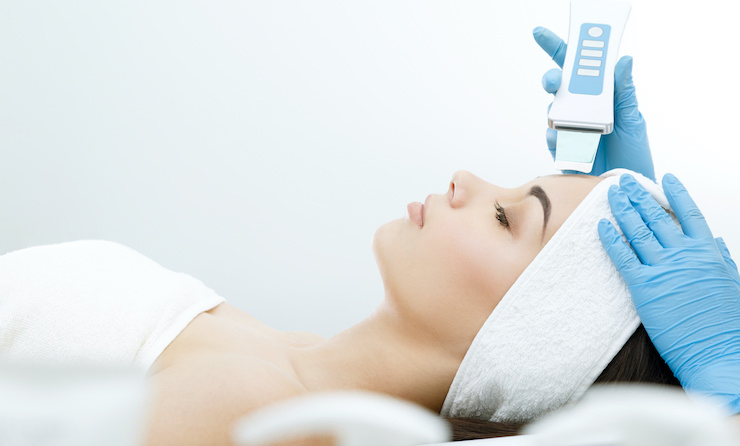 We recommend all new clients book a 1-on-1 skin consultation with our highly trained skin therapists. In an extended one-hour session, our team will perform an advanced skin analysis, identify the causes of your issues and determine the best facial treatment and plan for your skin.
Why Choose Chantal Louise Skin Therapy?
At CL Skin, we provide skin consultations and skin treatments with the latest and best technology to improve and clear clients' skin conditions and concerns with lasting and noticeable results. Trust our Brisbane skin clinic to provide you with the care you deserve.
Take Back Control of
your Skin

. Book a Consultation Today!
Your skin doesn't have to be a mystery – our friendly and trained team are here to help you understand how to improve your skin health. Ready to start your skin care journey?
Book a skin consultation online, give us a call at 07 3260 5908 or visit us at our clinic.
Investing in your skin early is one of the best things you can do. Start now.